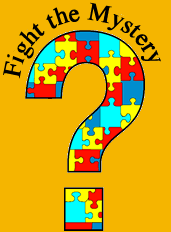 EJ Autism Foundation In The News: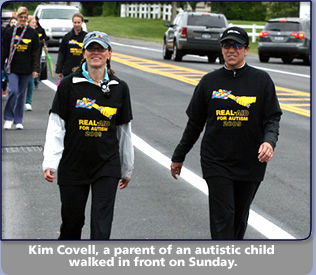 Some 60 people joined together to cover 83 miles of walking between East Islip and Montauk in the name of helping autistic children last weekend.

The EJ Autism Foundationís Real-Aid for Autism walk included groups of varying sizes, sometimes as few as two, walking east along Montauk Highway over Saturday and Sunday. Participants covered 52 legs of the journey, each between 1 and 4 miles, and the walk ended at the Montauk Lighthouse.

Each walker sacrificed his or her time and energy and donated $30 to the EJ Autism Foundation, which later dispersed the money to various causes in the towns along the way.

"For its maiden voyage, it was a tremendous success, a big accomplishment," EJ Autism Foundation founder Beatrice Huste said. Huste was grateful and proud that she was able get permission from all the towns and support from the various police departments, which escorted them on the more dangerous stretches of road.

"I wanted to come up with something that reached out to many people," Huste said, explaining that the walk got people out and exercising, but it was broken up into short legs so anyone could participate.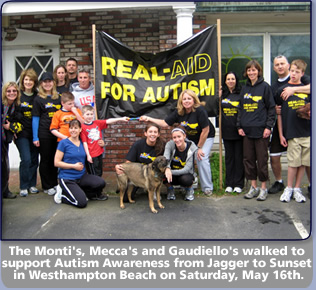 Each stop coincided with a school district and participants could walk from one district to another. The foundation encouraged people to walk as long and as often as they chose and asked only that they cover at least one leg of the trip.

Huste said walkers received a T-shirt and water bottle for their donations and the money was given to Masera Learning Center in East Islip, Camp Pa-Qua-Tuck in Center Moriches, Long Island Communities of Practice in Southampton and the Child Development Center of the Hamptons charter school in East Hampton. "The money stays here, not a lab," she said.

Huste started the foundation four years ago, just two years after her second autistic son was born. Huste has four children and her autism foundation is named after her boys with the disorder. Eric is now 6 years old and her son, Jack, is 8.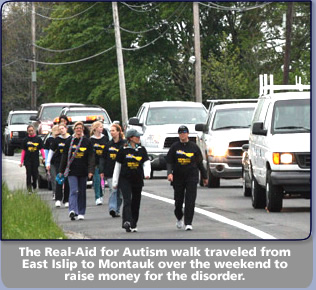 The beneficiaries of the walk provide services to autistic kids and children living with other disabilities. Masera is part of BOCES and the program will use its part of the funds to buy appliances so children can learn to use them and become more independent. Camp Paw-Qua-Tuck provides a summer camp experience for autistic kids, Long Island Communities of Practice works to raise awareness about the disorder and CDCH in East Hampton has enrolled numerous autistic and disabled students.

Along with collecting the required donations, Huste said a handful of drivers stopped to donate money as the walkers traveled along the highway.

One participant, Rebecca Speckenbach, a freshman at Pierson High School in Sag Harbor, said drivers honked in support as she and her fellow participants trudged in the rain from stop 38 at the Bridgehampton Commons to stop 40 at Stephen Hands Path in East Hampton.

"It was long, but kind of fun and kind of cold," Rebecca said, noting that the journey took about two hours and was well worth the minor discomfort. She joined the Real-Aid walk because her friend Christina Martinís 5-year-old brother Hunter is autistic and she wanted to support their family and the cause.

"I baby sat him before," Rebecca said of Hunter. "Heís crazy, but cute and heís really smart," she said.

Huste walked several legs of the trip, including a few "dead spots," where she and EJ board member Diane Reese were the only participants. "I walked in a lot of different places," she said, noting that her participation ensured that the chain was never broken on the 83-mile walk.

The rain likely caused some people to bail out, but "we were walking for the children and not the weather," Huste said. In some way, she said the weather illustrated the resolve of the walkers, who were more than willing to get wet for the cause.

"It was very fun," Huste said, noting that she expects the Real-Aid walk to grow in the coming years. ďThis is something we envision to be a very big event in time," she said.

The EJ Autism Foundation is a 501C3 charity that runs several endurance events each year, including their annual Jigsaw run in April and the upcoming Great South Bay Triathlon, an 11-mile race on June 7.
Back to News Index