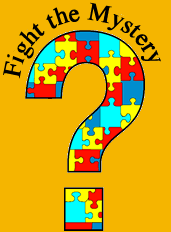 EJ Autism Foundation In The News: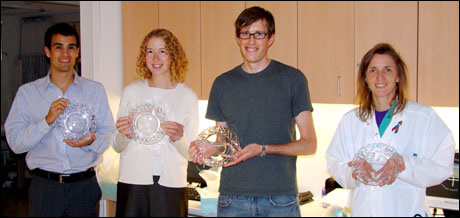 "The prospect of competing in a country to which I've never been is all at once exciting, intimidating, and entirely welcome," said Jacob Gomez, left, whose fourth-place finish in June's J.P. Morgan Corporate Challenge in Central Park helped Memorial Sloan-Kettering Cancer Center win the Mixed team title and a trip to the Series Championship in South Africa on March 4. Other members of the MSKCC Championship team are: Christina Stallings, Nicholas Perl, and Bea Huste.
When she isn't researching Mycobacterium tuberculosis pathogenesis at Memorial Sloan-Kettering Cancer Center, Christina Stallings can be found in Central Park or on New York's roads and trails running. She runs - fast. Fast enough, in fact, that in June she helped MSKCC win the Mixed team title at New York's J.P. Morgan Corporate Challenge.

Now, Stallings and three of her teammates will hop aboard a plane and travel halfway around the world to compete in the JPMorgan Chase Corporate Challenge Championship in Johannesburg, South Africa, on March 4. The honor is a testament not only to busy employees like Stallings, who manage to handle the demands of a career, running and life, but also to the vision of the Corporate Challenge, founded 34 years ago to promote fitness and camaraderie in the workplace.

"I have been running track and cross country since fifth grade," said Stallings, a PhD and Research Fellow in the Immunology Program at MSKCC. "Not only has running always been a huge part of my life, but it has also helped me develop into the competitive, disciplined, and hard working person I am in my career.

"A great part of participating on the MSKCC Corporate Challenge team is that, although Memorial Sloan-Kettering Cancer Center is a large hospital with numerous employees, I don't get much opportunity to interact with people outside of the laboratories where I work," she added. "The Corporate Challenge allowed me to meet and interact with people from all different sectors of the hospital and made me feel like part of a larger community within my workplace."

Now, MSKCC will join Male team champion The Running Company and Female team winners UFT-DOE as New York's representatives in the first Championship to be held outside of America. It is an event that has been so well-received in the Series' 12 cities that every one of the eligible teams from around the world has committed to run.

For MSKCC, that commitment took some doing. Two of its runners from this year's championship team in New York — Bea Huste and Nicholas Perl — were unable to make the trip and have been replaced by Kelly Gillen and Dean Gebhardt, the next fastest MSKCC finishers in New York.

Missing a trip to South Africa is a disappointment, of course, but, in the case of Huste, it shows just how difficult the balance of a career, running, and life can be.

"It's not too often that you get to go halfway around the world for free because of a running achievement at 45 years old," she said. "But, because I have two children with disabilities, travelling and being away from home for four days is impossible. But … if I were going? I would eat up every moment of the cultural experience! FIFA (the soccer world championships) is being hosted in South Africa 2010. I am sure the country is excited and ready!"

Huste would obviously have loved going to South Africa to cap a running career that has seen her become a fixture in New York for more than 20 years. She and her husband, Pat Petersen (the former American record holder in the marathon), have two autistic children, and founded the EJ Autism Foundation to promote autism awareness and to support programs that work with autistic children. She ran 22:47 in New York's Corporate Challenge in June to lead MSKCC's women's times, and participated in the Championship several times when it was held on New York City's Park Avenue. Despite a less-than-ideal pre-race schedule, she finished as high as fifth overall on Park Avenue against the best corporate runners in the world.

"I work nights and have run all the Championships in the past without having slept the night before," said Huste, a Physician Assistant in the Post-Anesthesia Care Unit. "The Championships are usually Saturday morning and Thursday night is my last full night of sleep prior to the race."

But, her children come first, so this year she will miss the Championship, her spot taken by Gillen.

"I think the overall team results show that we have a lot of solid runners," said Gillen, a Research Assistant in Cell Biology, "and I am very proud and honored to be able to represent Memorial Sloan-Kettering at the Championships. My younger brother is a cancer survivor who was treated at Memorial Sloan-Kettering, so being able to represent MSKCC means a lot to me."
Memorial Sloan-Kettering Cancer Center's team poses for a photo in Central Park in June. "The Corporate Challenge allowed me to meet and interact with people from all different sectors of the hospital and made me feel like part of a larger community within my workplace," said Christina Stallings, a member of the winning Mixed team.
Joining Stallings and Gillen on the South African-bound team will be Jacob Gomez, a Research Study Assistant in the Department of Surgery, and Gebhardt, a Computed Tomography Technologist in Radiology/CT.

Gomez, in particular, helped spark MSKCC to its title, finishing fourth overall in New York in 18:00.

"MSKCC has always been in the hunt for top five finishes in the NYC races, often in the Mixed Division, but this was our first win in recent memory and a wonderful surprise," said Derek Tan, a Co-Company Captain along with Mark Robson and Piera Robson.

"I think we have some very good runners at MSKCC and when one of us steps up, like Jacob did, anything is possible, and it helps motivate the rest of us to run better," added Gebhardt.

So, the team, with representatives from both the clinical and research programs at MSKCC, will face a formidable challenge, along with a wonderful opportunity to explore a different culture, in South Africa.

"None of our team members has traveled to South Africa before, and all are extremely excited about the opportunity!" said Tan.

Added Gomez: "It's always more fun to run in another locale than the one where you usually train. The prospect of competing in a country to which I've never been is all at once exciting, intimidating, and entirely welcome."

Gillen agreed.

"A few years ago, I ran in the Corporate Challenge Championships on Park Avenue in New York City, which was exciting because there's nothing like running the streets of New York," she said. "This time, I definitely have feelings of anticipation and anxiety about running in South Africa since we'll be traveling so far and racing against some very fast teams in an environment so different from what I'm used to. That being said, I'm really looking forward to the trip because I know it will be a terrific experience!

"I am really looking forward to the race events themselves," she added. "I have never traveled so far to race, and I think it will be interesting to see all of the athletes from different places and different professions come together at this event. Following the race, I plan to travel in South Africa and will go to Kruger National Park and then Cape Town, both of which I am very excited about. I'm planning on running my best, but having fun and making the most of this experience."

And why not? This trip is a reward, a bonus to add to an often demanding balance that helps makes life a little more special for a team of corporate runners.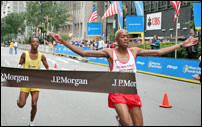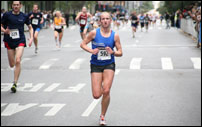 Back to News Index